Nobody's Muse
Surrealist painter Leonora Carrington (born 1917) was nobody's muse. She and her lover Max Ernst made pictures of each other, she explained. "I didn't have time to be anyone's muse," said Carrington. "I was too busy rebelling against my family and learning to be an artist." She was friends with Picasso, Dali and the whole gang, many of whom turn up in Encyclopedia of the Exquisite. But her gorgeous, evocative work stands on its own. I think she's just fantastic.
As a debutante in London she'd been presented to George V, but in 1936 she saw Ernst's work at London's first surrealist exhibition. "I fell in love with Max's paintings before I fell in love with Max." The couple split for Paris, then for Provence. At the outbreak of the war, however, they were pulled apart. Max panicked and made for the US, with help from Peggy Guggenheim. Carrington ran to Spain, had a nervous breakdown there, and continued to Mexico, after escaping the caretaker's sent to fetch her by her family.
According to accounts out there on the internet, Carrington is still living in Mexico City. I really want to check out her novels, like The Hearing Trumpet, which is supposed to be as fantastical as her artworks, and her memoir, Down Below.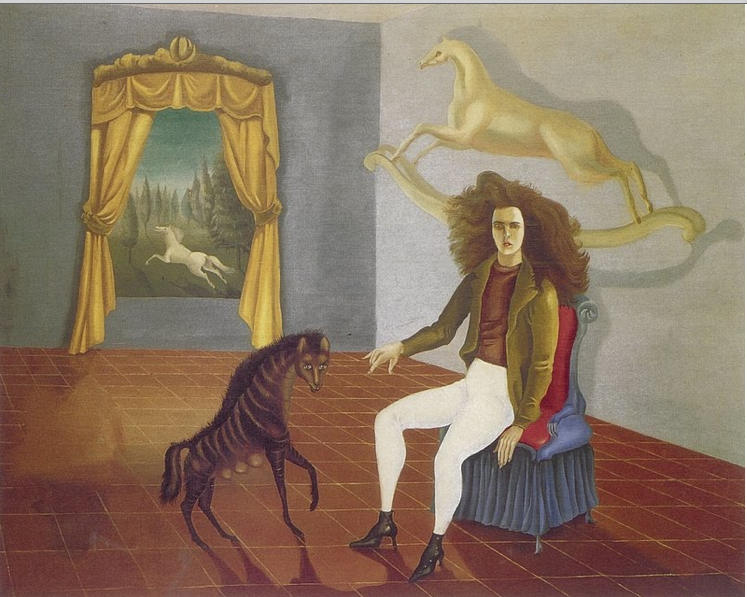 A stunning example of Carrington's work.A Carrington lithograph (1942) owned by the MoMA.